Abraham Chavez Theatre Information
Named after Maestro Abraham Chavez, the conductor of the El Paso Symphony, the Abraham Chavez Theatre is the oldest performing arts center in El Paso, and is home to the longest-running symphony orchestra in all of Texas!! The El Paso Symphony Orchestra are known worldwide both for their outstanding skill and their positive impact on the local community. The theatre has seen some incredibly important people pass through its doors, including Joshua Ryan, Tim Black, Hunter Downing, Gabriel Iglesias, Aaron Velasco, and Erik Carvajal!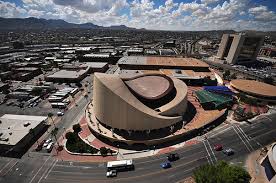 With its unique architechture, The Abraham Chavez Theatre is one of the most recognisable buildings in El Paso. Aside from its distinctive shape, the building features seating over a magnificent 3 floors, with a 5,000-square-foot lobby and a 40-by-56-foot stage, in addition to 14 dressing rooms.
A show at The Abraham Chavez Theatre is an unmissable event on your list during your stay in El Paso!